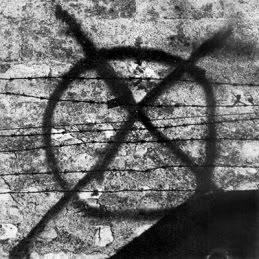 Originally self-released with no label name, 1979; reissued by Dexter's Cigar; available but act quick
4 tracks, 11:35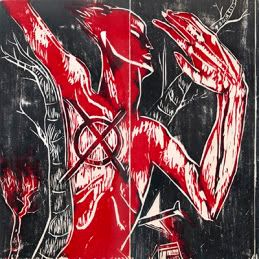 Index, 1983; reissued by Blue Chopsticks; available
6 tracks, 35:57
These two releases were recorded within two years of each other by the exact same lineup; both were also reissued on sublabels of Drag City owned by David Grubbs. That's where the similarities end. Circle X (originally, the symbol on the EP WAS their name) have a fairly complicated history. They originated in Louisville, moved to New York, moved again to Dijon, and then relocated back to New York! Loosely associated with no wave, they really were always in a universe of their own. For these two early releases, Circle X was David Letendre, Rik Letendre, Tony Pinotti, and Bruce Witsiepe.
The debut EP originally was completely unnamed except for the cover symbol. It was recorded in Dijon while the band members were living there. The Letendre brothers are credited with guitar and "drum", while Pinotti does vocals and Witsiepe plays guitar. You hardly notice the lack of bass at first; the guitars are gnarled and nasty, and one guitarist tends to play twisted noise rock riffs while the other provides either storms of distortion or feedback drones. The drumming is fairly varied, with each song having a different style. Pinotti brings a different vocal idea to each song as well. The original A-side consisted of the almost-straightforward "Tender" and the hardcore-with-an-arty-twist "Albeit Living". The former sounds uncannily like the FAR later Laughing Hyenas with its sludgy groove and hoarse screaming/shouting, while the latter begins with multiple voices speaking the lyrics before launching into a ferocious little rocker. The other side was even further out there: "Onward, Christian Soldiers" predicts the kind of slow and heavy noise rock that Swans et al would soon explore, and "Underworld" features a bagpipe-esque drone, Pinotti's alternately spoken and shouted vocals, and a wonderfully processed guitar that sounds like a malfunctioning amplifier playing itself. It's all at least a few years ahead of its time, and it's also the most no wave thing they ever did. An auspicious debut, to be sure, and very much worthwhile.
Two years later, the band was back in New York. The lineup was intact, but the sound sure wasn't! The newly rechristened Circle X Internationale had gone from noise rock to industrial. They expanded to using tapes, further percussion, and even a bass on the opening "Current". The sound is much spacier and loop-based than aggressive; the guitars weave in and out of the mix, with atmospheric percussion providing most of what little structure there is. Actually, the production is very close to the spectral qualities of dub, with heavy usage of reverb and delay. Pinotti has also changed his vocal style, mostly going for a much more pained and haunting tone midway between a sigh and a moan. With these musical surroundings, his voice is a perfect fit. While all six songs are amazing, the definite standout is a remake of "Underworld". Retaining the basic structure of the original while more than doubling its length, this version features Pinotti's vocals getting basically the same treatment as the guitar on the original to great effect, and guest Jason Huang's eerie organ helps to make it much more atmospheric and incredible than the already impressive first version. The spooky bass-driven "Current" and oddly catchy "Prehistory Part II" are particularly great as well, but this is definitely a completely solid album. Curiously, this wasn't released until '83, two years after it was recorded; maybe no label was ready for it yet. If you can only get one Circle X release, this should be it.
Both of these are available at Drag City's webstore, http://www.dragcity.com/store . Please be advised that most Dexter's Cigar titles are long out of print, and the Circle X EP may follow suit soon. PREHISTORY should be easily acquired. Either way, these are ten EXCELLENT songs without a drop of filler, so maybe just grab both and sleep easier!
Circle X took an extended hiatus until the early '90s, when they reformed minus David Letendre. They proceeded to make music with a revolving cast of drummers until 1995, when Bruce Witsiepe passed away. The out-of-print CELESTIAL from '94 is pretty interesting. Even better are the 10" on Fractal and the "33/Puerto Rican Ghost" single. The former features a live show from '79, a previously unreleased outtake from the same year, and two unreleased '94 tunes, while the latter single has them tackling a Mars medley.