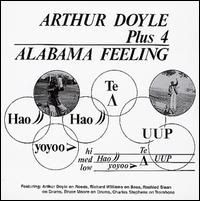 AK-BA, 1978; reissued many times; out of print on CD, available on vinyl from Rank And File
6 tracks, 37:52
Oh MAN, is this some intense jazz! Let's cover the "Plus Four" first. Arthur Doyle's brave sidemen for this outing are drummer Bruce Moore, electric bassist Richard Williams, trombonist Charles Stephens, and drummer Rashied Sinan. All of these players truly shine on their instruments, with percussionists Sinan and Moore doing especially well supplying inventive fills and improvisations. Stephens and Williams also shine on their instruments, with interesting non-linear basslines and surprisingly interesting horn support. Doyle, however, is the true demonic genius of this quintet! Credited as playing "tenor voice-o-phone, bass voice-o-net", and flute, his playing is truly not quite like anything else. The "voice-o" terminology refers to his style of speak-playing, using the tenor sax and the bass clarinet in an almost hindewhu* way. Knowing this makes you wonder just what the hell he's saying, because his playing is always at full blast, with the skronk-o-meter (to coin a term myself; I think?) at eleven. This particular set was recorded in 1977 at the Brook in New York. Being the height of the no wave period, this had to go over well with that scene; in fact, Rudolph Grey of Red Transistor was at this show and was impressed enough to recruit Doyle for the Blue Humans**. While there are titles and rough cuts at the end of each track, this is really best experienced the way it was recorded: all in one go at maximum volume. "November 8th or 9th - I Can't Remember When" opens the set with a particularly scorching performance by Doyle, and the supporting quartet surprisingly manage to match his energy. Other highlights include the multi-part "Development", which almost approaches AMM territory with its flute run and raging percussion, as well as the mostly solo sax piece "Something For Caserlo, Larry & Irma". The latter piece isn't exactly restrained, but compared to the other tracks it comes across as a bizarre moment of tranqulity. The recording isn't as great as it could have been, but it could have been a LOT worse. Good luck finding this, but free jazz fans can't say they know the genre until they do. Fans of free improv and no wave will find some common ground here; others might want to approach this with caution, but as with most albums reviewed here, it'll be worth the effort. Other Doyle albums are out there; some find him experimenting with his "Electro-Acoustic Ensemble", and some are very raw home recordings that border on outsider music. All of it is worth investigating. Harder to find but easily ALABAMA FEELING's equals are Noah Howard's THE BLACK ARK and Milford Graves' BABI MUSIC, which find Doyle laying down incredible performances as a sideman himself.*** Check the comments for a great link to an interview with Doyle (thanks, Roy!).
*From Wikipedia (credit totally being given!): "Hindewhu is a style of singing/whistle-playing of the BaBenzélé pygmies of the Central African Republic. The word is an onomatopoeia for the sound of a performer alternately singing pitched syllables and blowing into a single-pitch papaya-stem whistle." Which is a better definition than I could ever give! http://en.wikipedia.org/wiki/Hindewhu
**The excellent (and unfortunately VERY rare) LIVE 1980 documents the trio of Doyle, Grey, and the incredible free jazz drummer Beaver Harris. Very much worth checking out, and good luck!
***ALSO worth investigating is Charles Tyler, founder of AK-BA. His albums for ESP-Disk' (CHARLES TYLER ENSEMBLE and EASTERN MAN ALONE) find him in ferocious and psychedelic modes, respectively.