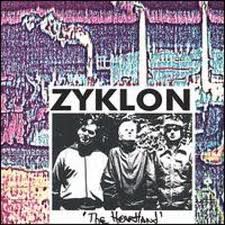 GRiM, 2006; available
17 tracks, 71:02
Unknown to a lot of industrial fans, one of America's earliest groups of that sort came out of Grand Rapids, MI. Starting in 1979 as Art Damage, each member contributed vocals and a synthesizer. Steve Zuidema Zeeland used an ARP Axxe, Brian Younker a Korg MS-20, and Tom Purdy a Roland SH-1. Their obscurity is unfortunately easy to explain: Nobody was ready for them in Michigan, and audiences tended to be quite hostile*. This CD compiles Zyklon's self-titled 7" and the cassette-only HEARTLAND, both released in 1981 (plus one bonus track). Stylistically this is quite varied. "All Night War Film", "No Mexiko", and "Brand New Key" (yes, a Melanie cover!) fall on the synthpop side of things, with unusually emotive vocals accompanying the synth drones and blips. "Kelvin" and the HEARTLAND version of "Gary, IN"** feature factory rhythms as percussion; Purdy made these during his day job at a refrigerator plant. The two epics, "Amtrak" and "H", are each stunningly prophetic in their own ways. "Amtrak" is a Kraftwerk-inspired thrill ride, foreshadowing the later techno sound (and even Plastikman at times!). On the opposite end, "H" is a noisy slab of grinding sounds and drones; much later harsh and abstract noise can be traced to this track. Not a single experiment fails, and the whole compilation is a gem of obscure early industrial. This is especially recommended to fans of Throbbing Gristle, Ike Yard, and Cabaret Voltaire, but for historical value alone it belongs in every serious industrial library.
*The track "Zerfallen", which closed THE HEARTLAND, seems to capture one of these gigs. The audience doesn't cheer until Zyklon's power is cut!
**"Gary, IN" and "Part-Time" are present on the 7" and THE HEARTLAND, but in vastly different versions. The 7" version of "Part-Time", dating back to 1979, is the earliest Zyklon recording.