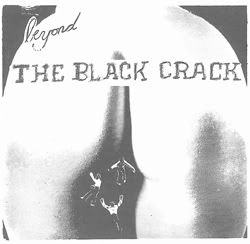 Cavern Custom, 1976; reissued by Paradigm; apparently available
14 tracks, 69:07
I'll get this out of the way: The title, cover, and some of the song titles on this album are VERY hard to get past. Thankfully, it isn't a juvenile series of dirty jokes, but rather a serious and amazing avant-garde treasure. Rev. Dwight Frizzell (yes, the title is official) is the mainstay on every track. I'm assuming Anal Magic was more a collective name for his projects than an actual group, since the bands listed are actually Black Crack and the Sole Survivors and Fredrik's Cosmic Spaced Out Blues Band and Orchestra. There's also a collection of five tracks collectively known as "Turtle Music", as well as a couple bonus tracks from a later Frizzell composition called "The Wandering Madness Of Basilea, The Great Mother". Most of this album seems to have been recorded live, but only the Cosmic Blues Band tracks have any audience sounds. "Black Crack and the Sole Survivors" is a massive thirteen minute slice of weirdness. Rattling percussion, random vocalisations, and strange sounds are the order of the day. The liner notes say it was recorded live on three seperate dates, and the results seem to be an audio collage of these performances. "Black Crack" is an absolute gem of experimental music. If you passed this off as a track by Faust or Nurse With Wound, nobody would question it. In fact, this track alone explains why Anal Magic was on the infamous NWW list. The following three tracks are by the Cosmic Blues Band, and were recorded live at a church chili supper. The songs have goofy titles like "Hot Fudge" and "Get It Out Of Your System", but the music itself is a heavenly slice of post-Sun Ra strangeness, punctuated by Frizzell's experimental use of an oscillator and other electronics. It's a delightful mix. The "Turtle Music" tracks were mostly recorded live on "the midget pyramid in McCoy Park, Independence, Missouri". They are mostly percussion and wind instrument jams, accompanied on "Pre-Transformation Of Turtle To Bird" by the sounds of children playing. One of the kids is heard asking Frizzell "What are you doing this for?"; his response is simply "I'm making a recording!". Throughout these tracks, various sounds from the park are heard, lending an unearthly atmosphere. The final track, "O What Joy It Is To Know You Have A Turtle Heart", is a splendid saxophone drone, recalling Terry Riley's sax playing. The bonus material begins with the aforementioned "Basilea" tracks. These are heavily electronic works, concluding with Harry Truman's speech on the atomic bomb accompanied by the sounds of a geiger counter and tape-modified voices. The final bonus track is a "1997 remix" of unused Black Crack material. While just over two minutes in length, this track (amusingly titled "How To Avoid Simultaneity") is a great capper to a unique album. The combinations of diverse avant-garde styles may be a little inaccessible, but repeated listens make this a surprisingly solid album, comparable to other outsiders of the period such as Zweistein. The bonus tracks meld seamlessly with the original LP material, and the sheer sense of adventure carried throughout is refreshingly unique. HIGHLY recommended, but good luck finding it; the 1998 repress was a limited edition of 1000, and the original LP was limited to a scant 200 copies.
Postscript: For a two-minute snippet of "Black Crack and the Sole Survivors", other reviews (not all positive), and a brief history, please check out the following link: http://www.stalk.net/paradigm/pd06.html
UPDATE! Paradigm has reissued this! Get it before it goes out of print again!