4AD, 1990; reissued by Rykodisc with bonus track "Livonia"; Rykodisc version out of print, 4AD version available as an import minus the bonus track "Livonia"
12 tracks, 35:28 (Rykodisc version 13 tracks, 39:59)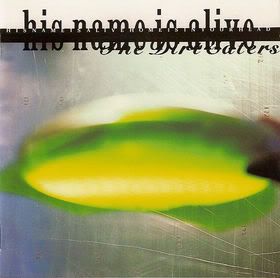 4AD, 1991; reissued by Rykodisc with additional tracks from THE DIRT EATERS EP; Rykodisc version out of print, 4AD version available as an import that includes the bonus tracks
23 tracks, 48:19 (Rykodisc and reissue versions 28 tracks, 66:28)
His Name Is Alive were always an odd prospect. Originally based in HNIA mainman (and sole constant) Warn Defever's parents' basement, the band created an incredibly atmospheric and dense sound using lo-fi methods. The music they produced has varied over the years, but on these two early releases they are in full experimental mode. LIVONIA mostly consists of demo recordings (similar to the Pixies' COME ON PILGRIM and Red House Painters' DOWN COLORFUL HILL, among other 4AD releases) remixed slightly by 4AD head Ivo Watts-Russell. The tracks veer from the chilling yet gorgeous "As We Could Ever" to the avant-rock of "Fossil" to "Reincarnation"'s bizarre sound collage and "Darkest Dreams"' dark yet comforting atmosphere. Vocalists Angie Carozzo and Karin Oliver never fail to impress, being sultry one minute, wispy the next. Defever provides appropriately varied instrumentation, mostly layering shimmering guitars and deep bass throbs. Damian Lang provides percussion on a scant three songs, Jymn Auge contributes guitar to "Fossil", and the enigmatic Tracy provides bassoon on one track. Otherwise, it's all Defever's show, which makes the results that much more impressive. Try to find the Rykodisc version; the gorgeous bonus track "Livonia" is essentially a sound collage, but it's the perfect coda to an amazing debut, and is worth the hunt.

HOME IS IN YOUR HEAD is a slightly different prospect. Carozzo is gone, but Karin Oliver remains (she also is credited with songs and guitar), along with guest vocalists Denise James and Karen Neal (on the EP tracks). The lineup is also more traditional, featuring Defever, Melissa Elliott, Damian Lang, and Jymn Auge. Oddly enough, despite the expanded lineup, the sound is starker, usually revolving around an ambient acoustic guitar. Several of the tracks are short, and a multitude are instrumental. The breathtaking "Sitting Still Moving Still Staring Outlooking" is probably the best known track, thanks to its use in JERRY MAGUIRE of all things. There is also the sing-songy "Are We Still Married?", the droning "Home Is In Your Head", short-but-sweet sound collage "Put Your Finger In Your Eye", and the eerie "Chances Are We Are Mad". All the songs run into each other, providing a seamless and fascinating listen. The overall mood is still strange, but this album definitely has a lighter tone than LIVONIA. The Rykodisc issue and the 4AD reissue both contain the excellent DIRT EATERS EP, named after Melissa Elliott's main band. The EP features five tracks: a strange but amazing cover of Rainbow's "Man On The Silver Mountain", Ivo Watts-Russell's stark and gothic remix of "Are We Still Married?" (the Brothers Quay made an amazing video for this), the distorted "Is This The Way The Tigers Do?", the folky "We Hold The Land In Great Esteem", and the gentle "The Dirt Eaters". This is the edition of HOME to get, as not a single one of these five tracks is filler.

As great as later HNIA recordings are (particularly the slightly more accessible MOUTH BY MOUTH and STARS ON ESP), LIVONIA and HOME IS IN YOUR HEAD are the essentials to understanding Defever's strange world. From there, you should progress through the catalog; there's not a bad album to be found, but the urban soul efforts SOMEDAY MY BLUES WILL COVER THE EARTH and LAST NIGHT do take some getting used to. Even the latest albums (DETROLA, XMMER, SWEET EARTH FLOWER, and FIREFLY DRAGONFLY) are worthwhile, showcasing the amazing and alluring vocals of new singer Andy FM.