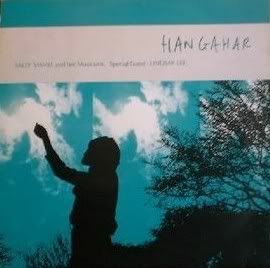 Groovy, 1980; out of print
Technically 2 tracks, 34:33
Groovy, 1980; out of print
2 tracks, 41:07
No picture available for Free Agents; trust me, I looked!
Groovy, 1980; out of print
Details uncertain; see below
Pete Shelley's Groovy Records was one of the shorter-lived labels. These three records were its only output. All three feature Shelley, which isn't surprising. What IS surprising is how much none of these records sound like the Buzzcocks. Other musicians include Sally Smmit (later to use her given name of Sally Timms in the Mekons), Eric Random (also with the Tiller Boys), Francis Cookson (also with the Tiller Boys), and Barry Adamson.

SKY YEN is Shelley's solo outing. Recorded back in 1974 (pre-Buzzcocks!) using only a "purpose-built oscillator", it's two whole sides of arty electronic sounds. Not quite high-pitched enough to be annoying, but not sedate enough to be ambient, this is pure head music. It's remarkably similar to much later ambient noise,and even reminiscent at times of early academic synth artists like Subotnick. The oscillator sounds less primitive than it should, and is far removed from similar constructs such as the Simeon. Out of the three Groovy Records releases, SKY YEN is possibly the most accessible, which IS saying a lot!

Sally Smmit and her Musicians are Smmit, Cookson, Shelley, Gerard Cookson, and Lindsey Lee. HANGAHAR (also listed as SOUNDTRACK TO HANGAHAR) is two whole sides of pure krautrock/kosmische worship. Smmit channels Damo Suzuki via Yoko Ono, and while it's never clear what's being played, the sounds all blend together into the ultimate krautrock tribute. Minimalist drumming, buzzing synths, and twisted guitar are the order of the day here. It feels like one solid piece, since side two picks up basically where side one left off. A far cry from her days in the Mekons, this is Timms at her absolute most unhinged and glorious. This would be an absolute joy to fans of far-out improv rock, as well as krautrock.

As odd as HANGAHAR is, the Free Agents' £3.33 (also referenced as simply FREE AGENTS) trumps it. At least the parts I've heard. It turns out the copy I was given was probably missing at least two tracks. Therefore, the review has been removed. However, what I HAVE heard is amazing in a Faust-meets-Rev. Dwight Frizzell kind of way. The lineup consisted of Shelley, Random, Cookson, and Adamson.

Overall, these three records were incredibly radical releases, and every one of them deserves a reissue. In a more perfect world, there would be a 2-disc set with all three! The Groovy label was a bold move, and it's a shame that more people will probably never hear its output. Luckily, Eric Random had a fairly prolific solo career. SUBLIMINAL 1980-1982 collects his weird dubby rock experiments and makes for a satisfying listen (one of these days it will be reviewed here).