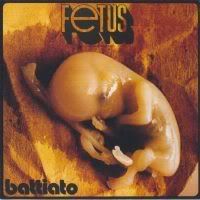 Bla Bla, 1972; reissued several times; available
8 tracks, 30:43
Bla Bla, 1972; reissued several times; available
7 tracks, 33:09
I always found the term "krautrock" to be severely limiting. Given all the weirdness going on in Europe during the '60s and '70s, you'd think a term like "Eurorock" or "continent rock" would have been more accurate (think about how often France and Finland turn up on this blog). Italy's Franco Battiato probably had some idea of what was going on elsewhere. However, he brought a distinct bit of pop to his cosmic sound experimentation. After a short career as a traditional pop singer, Battiato went off into far stranger territory in 1972. FETUS, with its slightly controversial artwork, finds Battiato achieving a blissful middle ground between the accessible and the avant-garde. "Fetus" itself begins with minimal synth and a heartbeat, soon accompanied briefly by Battiato's vocals. He sings entirely in Italian; though an English version exists, this isn't recommeneded, as the lyrics becomes less mysterious and more goofy when translated. Soon, the song becomes a synth workout worthy of prime ELP or Yes, but somehow both more minimal and more effective than either. After this, it only gets better! Given its short length, most of the songs are in and out with absolutely no wasted notes. Examples include the synth-led "Una Cellula" and the delightful piano-rhythm machine-and-violin romp "Cariocinesi". The one exception is the six-minute "Meccanica", which is essentially a mini-suite; it begins with a manic piano-led rush, goes right into a pretty acoustic guitar run, has a moment of piano-and-guitar interplay, and then suddenly slows down. A violin accompanies Battiato's account of having mechanical parts, punctuated with bursts of electric guitar. This gives way to a direct sample of Neil Armstrong and Buzz Aldrin talking to Houston and President Nixon. The whole track is one of the hidden treasures of prog, and it alone justifies the purchase; luckily, the other tracks are every bit as good.

Following FETUS, Battiato had intended to release the English version (which was delayed until fairly recently) and tour England with John Cage (!). Unfortunately, a car crash in England put a halt to these plans, leaving one of avant-garde's classic "what if"'s. Going back to Italy, Franco spent his time apparently pondering man's place in the cosmos, which was admittedly a big theme back then. However, his next album, POLLUTION, was far removed from the usual cosmic noodlings of the time. This time around, the pop touches are mostly absent. Instead, the sound is close to Faust-style krautrock, but with a distinct character all its own. The first four tracks (side one on the original LP) are essentially a suite, going from the musique concrete of "Il Silenzio Del Rumore" and "21 Dicembre 1999 - Ore 9" (which is just the sound of two explosions, and is about 20 seconds!) directly into the synth-and-backwards-pronounciations of "Areknames". This in turn leads directly into "Beta", which is the best early Pink Floyd song that they never wrote. The last three tracks are equally as good, despite lacking the unity of the first four; "Plancton" is a delightful cosmic ditty, the title track is an eight-minute epic/mini-suite, and it all ends on another musique concrete note. The same lack of traditional song structure is in full effect throughout. Both albums are recommended, and the Water reissues have amazing sound and great liner notes befitting such classic works.

Battiato would go on to release some more experimental works; SULLE CORDE DI ARIES and CLIC are also worthwhile, but the overly experimental albums that followed would find Battiato playing single piano notes for an entire side at a time. After this, he somehow went right back to pop music, to the point that the majority of his catalog would not interest fans of his early work.