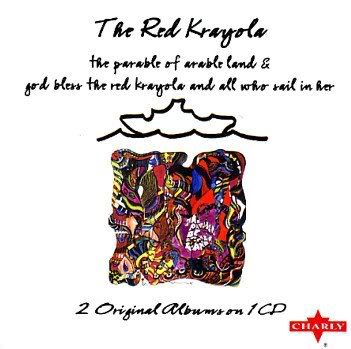 Originally released on International Artists in 1967 and 1968 respectively; PARABLE had 13 tracks, GOD BLESS had 20. My copy is a Charly reissue, which omits one of the "Free Form Freak-Out" tracks for a total of 32 tracks, 77:10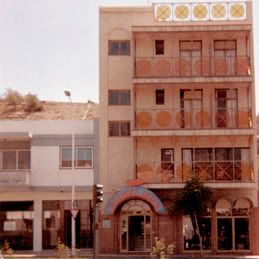 Drag City, 1995; available
44 tracks, 33:23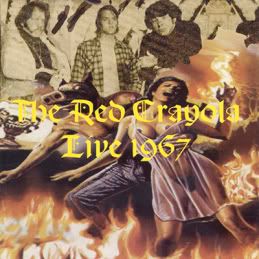 Drag City, 1998; available
2 discs. Disc 1: 3 tracks, 43:56. Disc 2: 3 tracks, 64:50.
Texas was quite a strange place back in the Sixties. No band proved this point more than Houston's infamous Red Krayola. At this point consisting of Mayo Thompson, Rick Barthelme, and Steve Cunningham, the Red Krayola (Crayola on the first album before being changed for legal reasons) concocted a strange mix of current psychedelia and ahead-of-its-time experimentation. This mix is most rooted in psychedelia on THE PARABLE OF ARABLE LAND. Tracks like "Hurricane Fighter Plane", "Pink Stainless Tail", and "Former Reflections Enduring Doubt" could get radio play then and now, even if the musicianship is sometimes a little clumsy and Thompson's words are abstract at best. However, the "Free Form Freak-Out" tracks between the songs push this into stranger territory. These are full-on slabs of cacophony featuring the "Familiar Ugly", an assortment of friends of the band including Roky Erickson from 13th Floor Elevators* on organ. Featuring everything from feedback to blown bottles to matchsticks rubbed together, these tracks are actually fascinating experiments which creatively flow into the proper songs; they are also the only recorded appearance of the Familiar Ugly. There is also the instrumental title track, which is built around what appears to be a percussive loop and is completely devoid of structure otherwise; this track almost seems like a blueprint for COCONUT HOTEL. As a whole, THE PARABLE OF ARABLE LAND is still a solid listen; it's also part of my personal Holy Trinity of Sixties Freak-Out Albums, along with Friendsound's JOYRIDE and Cromagnon's ORGASM/CAVE ROCK. The compilation EPITAPH FOR A LEGEND has some far more restrained (and folky!) demo versions of tracks from this album along with several other treasures of Texas-style rock and psych.
THE PARABLE OF ARABLE LAND was the Red Krayola's true freak-out album, but it did have identifiable ties to rock. COCONUT HOTEL was a complete rejection of rock norms, venturing further into free improvisation. This gem of an album was recorded in 1967, but International Artists rejected it for being too strange. Nothing on here is nearly as noisy as the "Free Form Freak-Out" tracks , but they aren't very musical either! With simplistic titles such as "Organ Buildup", "Free Guitar", and "Piano", most tracks deliver improvisations performed on the track's title instrument, though "Vocal" features some interesting effects and ambiance alongside "headphone vocals" by Frank Davis. The more abstractly named "One-Minute Imposition", "Boards", and "Water Pour" have more varied instrumentation but are no less adventurous in their search for pure sound. Then there are the "One-Second Pieces". Yes, these are exactly what you'd expect them to be: one-second bursts of noise, mostly performed on some sort of horn, piano, and drums. Some of the tracks feature more than one of these pieces, while most are just the blast of sound and then a few seconds of silence. Believe it or not, these are pretty entertaining, and they almost form a micro-suite after a few listens. More adventurous listeners (and fans of free improv in general) should find plenty to like on this disc.
LIVE 1967 is more intimidating. At two discs, these noisefests can be difficult to take in one sitting; it's best to tackle it one disc at a time. Disc one features their performance at the Angry Arts Festival on June 29, as well as two acoustics-and-voice recordings made in the band's hotel room that evening. Disc two finds them performing (believe it or not) at the Berkeley Folk Music Festival, July 2 through July 4. The first disc has its moments, mostly during the live show. The hotel recordings can be a little annoying when the vocals get carried away; while interesting the first time around, these attempts at abstract chanting overstay their welcome quick. These minor flaws are completely made up for with the second disc. Not only are the three performances excellent, but one has a guest performance by John Fahey**! The July 4 concert is especially amusing since it was from a radio broadcast. The announcer talks for quite a bit over the band, assuming they're warming/tuning up! All of the performances (except the hotel recordings) feature heavy use of feedback, one-second pieces, drones, improvisation, and other avant-garde elements. It was a bold move to perform such avant-garde material for festival crowds. The audiences, however, seem to love it, and the applause at the end of each performance is surprisingly quite enthusiastic. The recording quality is amazingly good consdering the age and circumstances of the recordings. One or two tracks have bits of audience chatter during the performance, but it doesn't interfere too much with the music. This is definitely an acquired taste, but fans of this sort of thing will absolutely love it.
After the preceding albums, Rick Barthelme left the band. Tommy Smith replaced him for GOD BLESS THE RED KRAYOLA AND ALL WHO SAIL WITH IT. Thompson and company come across as much more restrained here, but it's still as quirky as ever. None of the tracks are over three minutes, and eleven of them are less than two minutes. Most of these tracks have strange structures and rhythms, sounding very much like a product of the post-punk years rather than the psychedelic years. Strangely enough, one of the tracks is even called "Coconut Hotel"! Echoes of that album show up on two tracks: the self-explanatory "Free Piece", and "Listen To This", which is a one-second piece with an introduction. Another intriguing oddity is the EXTREMELY lo-fi "The Shirt", which has Thompson's voice and guitar accompanied by a Ferrari-esque "slice of life" recording. It's a solid album and a great listen, but it's also the least adventurous effort from this period. Then again, the least adventurous Krayola outings still make most other bands look tame and reserved! Fans of Beefheart, Zappa, et al may want to begin investigating Thompson's world here.
Mayo Thompson has kept the Red Krayola going over the years, working with everyone from Pere Ubu, the Rough Trade Roster, and several members of Chicago's post-rock elite. All of his work is worth checking out, but these four albums represent the genesis (some would say the apex as well) of his twisted musical vision. Start with THE PARABLE... and GOD BLESS... and go from there.
*The 13th Floor Elevators were the Red Krayola's only real competition; truth be told, while they are a great band, they're not really as out there as reviews would make you think.
**There is a legendary lost studio album recorded around this time featuring Fahey and the Red Krayola. Lelan Rogers (head of International Artists and Kenny Rogers' brother) refused to hand over the tapes, and their location and state of preservation are unknown. If this ever gets located and issued, you'll certainly find a review of it here!