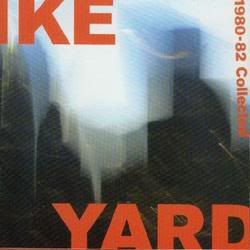 Compilation released by Acute(see review for individual dates), 2006; available
18 tracks, 78:50
Being the first band to be signed to Factory Records' American division, you'd have to be fairly special. Ike Yard doesn't fail in that department one bit! Ike Yard* was a quartet of Stuart Argabright (ex-Futants), Kenneth Compton (who was Madonna's boyfriend for a bit and appears in her "Burnin' Up" video!), Michael Diekmann, and Fred Szymanski. Their arsenal of instruments included the standard guitar, bass, and drum kit, but those are the ONLY traditional instruments used. Each member is credited with synthesizers (Compton specifically with bass synth), and other instruments include drum machines, found percussion, syndrum, and who knows what else. Both Argabright and Compton handled vocal duties, with Argabright getting the lion's share. Sometimes considered a no wave group, and having some common ground with that scene, Ike Yard was really in a category of their own. The first six tracks here are from the NIGHT AFTER NIGHT EP, released in 1981 on Les Disques Du Crépuscule; the exception is "The Whistler", which is a session outtake. These tracks find Ike Yard in full-on post-punk mode. The bass and percussion lock into powerful grooves, aided by synth pulses and colored by swooping guitar accents. It actually comes across as an American PiL or a punkier This Heat. "Night After Night" and "Cherish" would be dark club classics in a just world, and the whole EP is impressive. Fast-forward to 1982: Ike Yard have caught Factory's attention and have the honor of becoming Factory America's first signing. Tracks 7 through 12 made up the self-titled LP (often erroneously referred to as A FACT A SECOND, which is actually the catalog number). While still a decidedly American take on post-punk, these six tracks are far more influenced by classic dub and krautrock than by any contemporary groups (except maybe the early industrial and EBM scenes). The synths have a much more pronounced role; I was fairly certain there's no guitar or bass guitar on these tracks until Stuart Argabright assured me there is. "Loss", with its insistent bass pulses and steady electronic drones, is a standout; as the track progresses, random short-wave transmissions and Argabright's monotone vocals combine for a simultaneously disturbing and catchy tune. The remaining five tracks follow a similar path, with little quirks and kinks along the way to give each tune its own identity. As a bonus, this compilation features six previously unreleased outtakes from 1980 to 1982. None of these tracks would have been out of place on the proper releases; in fact, the eerie instrumental "Wolfen" is one of their best songs! I can't recommend this enough to fans of krautrock, post-punk, no wave, etc. You shouldn't have too hard a time finding it. Argabright would go on to Black Rain, Dominatrix, and Death Comet Crew (all worth investigating), and Szymanski made some recordings as Laminar. Diekmann also ended up in Death Comet Crew. Ike Yard made a recent comeback, and now consists of Argabright, Compton, and Diekmann. To hear some of the new tracks, please visit http://www.myspace.com/ikeyard. Their MySpace also has "Loss" and "Cherish", a demo called "Sweep" and an untitled live track from '81. The latter two are not on this compilation (possibly due to time limitations?), but both are very worthwhile. The Argabright-curated NEW YORK NOISE 3 features the otherwise unreleased "A Dull Life", as well as a Dominatrix track, alongside other no wave/industrial/art funk bands from '80s New York.
*The name comes from A CLOCKWORK ORANGE, in case you didn't know.
UPDATE: Check the comments for Ike Yard news and links straight from Stuart Argabright!