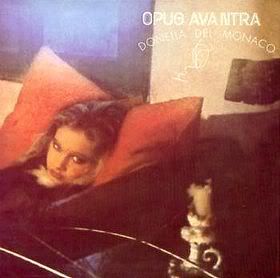 Trident, 1974; reissued by Artis and Arcangelo; available
Artis CD; 11 tracks, 46:07
The long-running Opus Avantra sought to combine the avant-garde with the traditional (hence AvanTra). Alfredo Tisocco is both the pianist/keyboardist and the musical mastermind; divine singer Donella Del Monaco* is the lyrical genius. Flautist Luciano Tavella, violinists Enrico Professione and Pieregidio Spiller, cellist Riccardo Perraro, drummer Pierdino Tisato, and percussionist/effects man Tony Esposito round out the group on this, their debut outing. While definitely within the classically influenced realm of most of their Italian contemporaries, Opus Avantra bring more than a bit of avant tweaking to their sound. The two-minute title track** opens the album; it's a bizarre bit of musique concrete, leading directly into the next song. Track two, "Les Plaisirs Sont Doux", features Del Monaco's gorgeous vocals singing French against a purely classical backdrop, accompanied by a spoken word double-tracking. From here highlights are hard to pick out, as the music veers from beautiful folk to ominous dark prog, always peppered with bits of odd production and sound effects. The drumming throughout is definitely jazz-rock inspired, which makes for an interesting accompaniment to what is otherwise a mostly classical lineup. The closing "Rituale" brings everything to a furiously rocking end, with proto-breakbeat percission and the most frenzied performance by Del Monaco. As a bonus, the Artis CD contains "Introspezione (Integrale)", which is the full six-minute version of the title track. In this form, it's an even more stunning bit of concrete experimentation. While all their albums are worth a listen, this debut outing is simultaneously Opus Avantra's most daring and enjoyable work. I love it, even if I don't understand any of the (mostly Italian) lyrics!
*Donella Del Monaco would be absent on Opus Avantra's next outing, but she's on most of their other albums. She also has a solo career that might be worth investigating.
**"Introspezione" (and by extension, "Introspezione (Integrale)") is credited to Tisocco, Esposito, Giorgio Bisotto, and Mireno Tisato.