Bla Bla, 1973; reissued by BMG; available
4 tracks, 33:26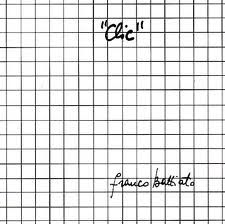 Bla Bla, 1974; reissued by BMG; available
7 tracks, 32:07
Battiato's amazing first two albums, FETUS and POLLUTION, were reviewed here a while ago. It's about time I got to the other two albums from his classic early quartet!
For SULLE CORDE DI ARIES, Battiato is joined on every track by percussionist Gianfranco D'Adda and guitarist/mandolinist Gianni Mocchetti*. He has several guest artists across the tracks as well, from violin to recited vocals. Battiato himself tackles the VCS3, guitar, prepared piano, and kalimba. A distinct retreat from the rock touches of POLLUTION, SULLE finds Franco somewhere between modern composition and cosmic pop-rock. The sidelong "Sequenze E Frequenze" is mostly an electronic pulse, anchored by drums and other touches. It easily rivals the best cosmic music from Germany, and might even surpass some of the better-known acts in that style. The B-side is made up of three shorter tracks. The instrumental "Aries" and moody near-classical "Aria Di Rivoluzione" show how much Battiato has progressed from the almost naive FETUS. "Da Oriente A Occidente" starts with a VCS3 whine and double-tracked, slightly out-of-phase vocals, leading to a wonderfully folky tune that ends the album quite unexpectedly. Definitely his most assured outing to this point, SULLE CORDE DI ARIES would be hard to beat.
Leave it to Franco to beat it! Dedicated to none other than Karlheinz Stockhausen, CLIC was Battiato's first real stab at modern composition. D'Adda and Mocchetti are back (with Mocchetti playing bass and guitar rather than mandolin); Juri Camisasca and Pietro Pizzamiglio are credited with vocal effects, and the Quartetto Ensemble del Conservatorio di Milano also helps out a bit. This time around, Battiato himself takes on piano, organ, mandolin, VCS3, "crystals" and "metals"(!). Only the stunning "No U Turn" features Franco's singing; the rest of the album is avant-instrumental music of a high caliber. "Rien Ne Va Plus - Andante" and "Ethika Fon Ethica" are brief but humorous sound collages; they may not be the best examples of this style, but they're still fun! Several tracks are absolutely gorgeous electronic pieces, including the minimal "Il Mercato Degli Dei" and the stunning "I Cancelli Della Memoria". "Propriedad Prohibida", while ostensibly a joking jab at the more-left-wing Italian prog acts, is a perfectly stunning piece of synth bliss. With CLIC, Battiato showed the world that he was indeed an artist to take seriously.
These albums are available as fairly priced Italian imports. Both are highly recommended, and with POLLUTION and FETUS they form an impressive early body of work. From here, Battiato would go further into experimentation; unfortunately, and as previously mentioned, for a while this meant whole sides of two piano notes being struck repeatedly. From there, he went into his pure pop phase and out of my realm of interest.
*D'Adda and Mocchetti were an essential part of the early Battiato sound; they also appeared on FETUS and POLLUTION. Sadly, CLIC was their final appearance on a Battiato album.