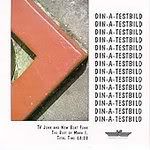 IC, 1989; availability uncertain, but easily found second-hand
12 tracks, 68:25
Formed circa 1978, Din-A-Testbild were part of the weird side of Neue Deutsch Welle. Mark Eins has always been the sole constant throughout the years, though the original lineup was MUCH larger*. This compilation collects the highlights from their first three PROGRAMMs**, released between 1980 and 1983. They were on Klaus Schulze's IC label; Schulze also produced some tracks and contributed a bit of keyboard. Three tracks come from PROGRAMM 1, four from PROGRAMM 2, and five from PROGRAMM 3***. The PROGRAMM 1 tracks have been remixed, but it's to their benefit. Every song has some elements in common; namely, driving electronic rhythms, repetitive keyboard lines, occasional guitar, and Eins' speak-sung vocals. Consistency doesn't mean boring, and each track brings something new and unusual to the table. The nearly twelve-minute "Satisfactory" (from PROGRAMM 3) is my personal favorite. It's a Kraftwerk-esque blend of delightful sequences and bizarre sci-fi lyrics that isn't at all overlong. The strange piano-led "Tight Pants", with Eins' vocals at their most tweaked, and the ever-so-slightly sleazy "The Call Of Lust" are other highlights on this wholly listenable collection. If your collection has room for Der Plan and Deutsch Amerikanische Freundschaft, you should be able to find a space for this. A good used copy should be easy and inexpensive to acquire. Anything else by Din-A-Testbild is also very much worth investigating.
*The rare "Abfall/Garbage" single shows this early industrial/punk side of Din-A-Testbild. Good luck finding this one!
**Most Din-A-Testbild releases are titled PROGRAMM #, the exceptions being LEIPZIG & COCA-COLA and SEX 'N CHAOS.
***Respectively, this leaves three, one, and three tracks left off this comp. These might be worth hearing, but they also may have been discarded for a good reason.