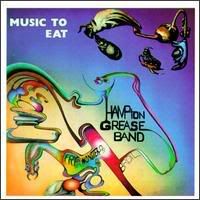 Columbia. 1971; reissued by Columbia/Shotput; out of print
Disc 1: 4 tracks, 57:17. Disc 2: 3 tracks, 31:24.
Oh man. If there was ever an album I simultaneously want to recommend whole-heartedly and warn people away from, this would be it. Usually (and slightly unfairly) viewed as Atlanta's equivalent to Zappa and Beefheart, the Hampton Grease Band were a completely bewildering entity. Named for singer Bruce Hampton, many believed he was the musical genius of the band. In reality that honor goes to Harold Kelling, whose guitar playing is definitely from the Zappa/Allman/Grateful Dead school while still sounding like nothing else being made at the time. However, Hampton's unique vocals certainly helped the band gain its notoriety. Somewhere between Captain Beefheart and Daniel Johnston, Hampton comes across as the sort of eccentric you'd love to hang out with. Rounded out with bassist Mike Holbrook, guitarist Glenn Phillips and percussionist Jerry Fields, this band of Southern surrealists gained a following based on their insane live shows. Even today, with many a shock rocker having come and gone, the idea of playing this intense music while standing on pizzas, covering friends in mayo, delivering flying kicks to bandmates' chests and taping yourself to the microphone is slightly jarring. The band intended its first album to consist of only three very long tracks. Columbia balked, and when the band returned with four other tracks, the flustered label released the whole shebang as a double LP. Lack of promotion (not to mention nobody knowing what to do with such a weird band) saw the album end up in the comedy section, of all places. While the music contained on these two discs has a high element of humor, it isn't comedy. Long jams such as "Halifax" (with lyrics read out of a travel guide), "Hendon" (Hampton reads the warning label on a spray paint can in his inimitable style), and "Six" have multiple parts, never sticking to one theme for too long and avoiding becoming boring. In fact, only two of the seven tracks are under seven minutes: the five and a half minute Spanish pastiche/joke song "Maria" (the only track on here that could honestly be considered comedic) and the just-over-three minute blues rocker "Hey Old Lady and Bert's Song", which is the closest thing to filler on here. "Lawton" clocks in at a relatively concise just-under-eight minutes, and is a bizarre improvised track that wouldn't sound out of place on one of Amon Duul's albums. The other relatively short track is the two-part jam "Evans", which is still not single material at 12:28. Essentially, the jams all incorporate so many different parts that an accurate description is hopeless, but for the prog/Zappa/psychedelically-minded listener this should pose no problem. While a great attention span is needed to make it through the entire two discs, MUSIC TO EAT remains an unfairly overlooked treasure, and certainly better deserving of attention than its infamy as Columbia's second worse selling album would indicate. That having been said, there IS a reason for it being so obscure, and the average pop/rock fan wouldn't last more than a few minutes into "Halifax". Essential, but with caveats.

Dedicated to the memory of Harold Kelling