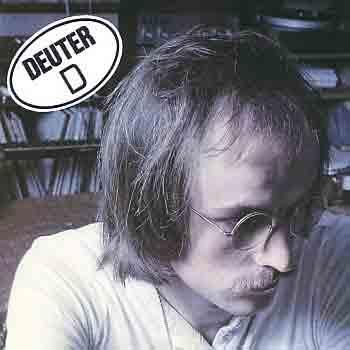 Kuckuck, 1971; available
5 tracks, 41:00
Kuckuck, 1972; available
12 tracks, 43:39
The enigmatic Georg Deuter has been previously mentioned here as a member of Maschine Nr. 9. Before joining that odd collective, he released two extraordinarily singular solo albums. Let's review them, shall we?
The first Deuter album, D, is also one of his most varied. Literally no two tracks sound much alike, and it's all the more impressive for that! The opening multi-part "Babylon" established Deuter as a true krautrock innovator. Over nearly fifteen minutes, he combines acid guitar, atmospheric organ, wordless vocals, and other sonic bits to create a true masterpiece. It's probably worth noting that every instrument was performed by Deuter; ah, the miracles of overdubbing! "Der Turm/Fluchtpunkt" is even better, being four and a half minutes of odd guitar sounds with steady drumming. This sounds almost like an Ash Ra Tempel outtake! Surprises abound, and "Krishna Eating Fish And Chips" is the first of these. Beginning with a droning organ, this becomes a ten-minute duet for said sound plus an honest-to-goodness sitar. What could be awfully cheesy in lesser hands is nothing less than a meditative piece of genius here. Next up is "Atlantis", which has Deuter's wordless "AHHHhhhhhhh"s accompanying hand percussion and a recording of the seashore. It's one of those pieces that truly transports you elsewhere, and it's another highlight on an album chock full of them. Finally, "Gammastrahlen-Lamm" ends things with a decidedly ambient and spaced-out synth. For sheer variety alone, D is incredible; luckily, the music itself bears this out.
Deuter's next album, AUM, took a decidedly different approach. Gone are the epic tracks, to be replaced by a series of mostly short pieces. AUM is also less varied, focusing mostly on sitar and hand percussion. The tracks were orignally arranged into three suites on vinyl; for the CD, they have been indexed seperately. The epic "Susani" (longest track here at eight minutes) is an exception to the rule, being a stunning piece of echo guitar soundscapes and wordless chants that would make Achim Reichel jealous. Other highlights include the trancey "Soham", the frenzied "Offener Himmel I/Gleichzeitig", and the atmospheric "The Key", but the whole album really should be heard in one go for the full effect. While this is much more in raga mode than rock, it's still an incredible listen. It also beats the hell out of a lot of later New Age, which it does resemble at times (though Deuter managed to avoid the schmaltziness that is usually associated with the genre).
Sadly, after this double knockout, Deuter would retreat into New Age music of a (in my opinion) cheesy nature. He did this for spiritual reasons, which I do respect and understand. Certain later albums, such as SILENCE IS THE ANSWER and SAN, definitely have their moments, but most krautrock fans won't find much to like with the rest of his catalog. That's really a shame, since he showed such promise.