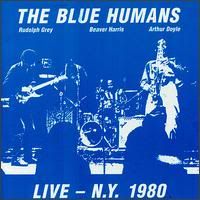 Audible Hiss, 1995; out of print
4 tracks, 68:50
Here's a recipe for you. Add two parts free jazz to one part no wave. Place the ingredients on a stage; let them boil for approximately sixty-nine minutes. This recipe yields one copy of this album.
Recorded live at Hurrah on March 12, this is the earliest document of Rudolph Grey's Blue Humans. Grey was no stranger to the underground; he had teamed up with Von LMO (in Red Transistor and Why You Murder Me) and Mars, providing his noisy guitar textures and occasional barked vocals. He had also performed with drummer Beaver Harris in a duo setting. Harris had an impressive resume, gracing sessions by Ayler, Shepp, and others. These duos were some of the first performances using the Blue Humans monkier (a few earlier performances featured a duo of Grey and percussionist Rashid Baker). Along the way, Grey had discovered/become a fan of Arthur Doyle; in fact, Grey was present at the Doyle show which was released as ALABAMA FEELING. Previously reviewed on this blog, Doyle's reed playing is absolutely in a class of its own. The review quoted by Grey in the liners describes Doyle as "dangerous" and "nasty"; no wonder Grey was intrigued! The three came together around 1980, bringing their crazed free jazz to post-punk audiences. On this particular night, all three players are in top form. Harris can provide a light atmospheric backing or the full-on clanging and bashing usually associated with this music. Either way, he never settles down, providing a near-constant percussive backdrop for Grey and Doyle. The former shows remarkable restraint; clearly Rudolph respected his fellow players, for his feedback-drenched strumming and slashing meshes perfectly with the others. That leaves Doyle, who goes about as crazy as you'd expect! Doubling on tenor sax and flute, Doyle's shrieks and flutters are always perfect. Fans of his ALABAMA FEELING or Noah Howard's THE BLACK ARK certainly won't be disappointed! Interestingly, there are several points over the long "tracks"* where one or more players will duck out to allow the others to shine. Mostly this involves Doyle and Grey leaving room for the other, but there are several points (in the third track, especially) where it's just Doyle and his horn. The recording quality is pristine; if it wasn't for the enthusiastic applause you wouldn't think it was live! This is yet another gem which has been allowed to go out of print; it's also quite hard to find for under $20. If you have even a passing interest in truly outrageous free jazz, the no wave scene, or the early days of punk/jazz fusion, I suggest you make the effort to get this.
Doyle would leave for France, briefly replaced by Charles Tyler. Grey and Doyle still collaborate to this day, though the Blue Humans seem to have fallen by the wayside. In particular, Grey's TRANSFIXED features a stunning Doyle performance, while the Arthur Doyle Quartet's LIVE AT THE COOLER documents Doyle, Grey, bassist Wilbur Morris, and drummer Tom Surgal in a particularly fiery '95 show. Other Blue Humans lineups have included Surgal, Alan Licht, Rashied Ali, Charles Gayle, and Jim Sauter. Particularly interesting is their sole studio album, CLEAR TO HIGHER TIME (with Licht and Surgal). Harris also appears on the Blue Humans' INCANDESCENCE (with Grey and Sauter; also highly recommended). He kept playing free jazz until his death in 1991.
*None of the tracks have names, and the four indexed have times of 21:02, 6:44, 29:46, and 11:15.