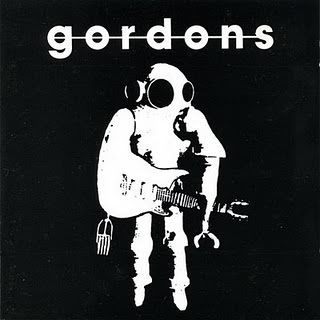 Flying Nun, circa 1997 (sources vary for the compilation's release; see review for original release dates); available
10 tracks, 50:43
New Zealand has long been a hotbed for alternative music (when that term actually meant something). The Gordons emerged from this fertile scene, armed with homemade guitars and noisy ambitions. Originally comprised of bassist John Halvorsen, guitarist Alistair Parker, and drummer Brent McLaughlin, the Gordons were an unstoppable post-punk delight. The FUTURE SHOCK EP came first (1980, on their own Gordons label). The title track and "Adults and Children" are noise rock gems, combining ferocious drumming and driving basslines with distorted guitar blasts and Halvorsen's frenzied shout-sing vocals. The slow Parker-sang "Machine Song", which is no less amazing, is much more like their debut LP. Released in 1981 on Gordons, this was a seven song masterpiece. Opener "Spik and Span" starts out mellow and beautiful, turning into a frenzied rave-up towards the end. This is followed by the nearly nine-minute "Right On Time", which in a more-just world would be universally considered a classic post-punk epic (the vocals here sound uncannily like Peter Murphy!). The rest of the tracks veer from humorous sludgy rock ("Coalminer's Song", "Growing Up") to post-punk rave-ups ("Sometimes", "I Just Can't Stop"), ending with the remarkable distortion-heavy "Laughing Now". It's strange listening to them now; Sonic Youth and Live Skull seem to have picked up a few ideas from the Gordons, and if it wasn't for the NZ accents you'd think these songs came out of mid-eighties New York. Fans of SY, Live Skull, Dinosaur Jr., etc.: This is the missing piece of your collection. Acquire this at all costs; you can typically get it from Flying Nun or another reliable New Zealand-based retailer for around $17 US (that's INCLUDING shipping).
If you just wanted to read the review, you can stop here. The following is a somewhat complicated mini-history of the Gordons after these albums.
After FUTURE SHOCK and THE GORDONS, Parker left. Vince Pinker took over bass duties, and this lineup recorded GORDONS II. Curiously, GORDONS II has never been reissued (it seems to be pretty much disowned by the band), but this compilation uses a slight variation of its cover art. Both original covers are reproduced on the back and in the delightfully wacky collage-ridden booklet. After GORDONS II, they split up. In the meantime, Parker had formed Bailter Space. After the atypical-sounding NELSH BAILTER SPACE EP, Halvorsen joined up for the LP TANKER. By the second LP, THERMOS, McLachlan was drafted on drums, thus bringing everything full circle! Anything by Bailter Space is well worth investigating.