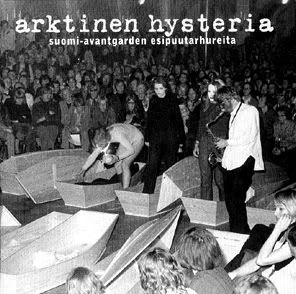 Love Records, 2001; available
13 tracks, 78:09
This absolutely priceless compilation of Finnish experimental music (the title translates roughly to "Arctic Hysteria: The Early Finnish Avant-Gardeners"!) is a tough one to review. Each track covers different styles, which makes for a delightfully diverse listen. Thus, for a change, I'm going to do a track-by-track analysis. I will provide tranlsations of the titles (when needed) in each mini-review.
1. M.A. Numminen, Tommi Parko, Pekka Kujanpää - "Eleitä kolmelle röyhtäilijälle" (1961)
This "symphony for three belchers" is probably the weakest track here, but it's mercifully brief at 1:56 and historically important. The three madmen responsible (two of whom show up with later works on the next two tracks) burp over a folky strum. That's it. Still, it's pretty funny once in a while.
2. Sähkökvartetti - "Kaukana väijyy ystäviä" (1968)
Here's where things start to get interesting! The Sähkökvartetti was a four-piece electronic instrument created by Erkki Kurenniemi (more on him later). Translating to "Electric Quartet", it consisted of an "electric violin", a primitive drum machine, a photoelectric melody machine, and the "voice machine". The latter is some kind of microphone/photoelectric aluminum stick hybrid. Numminen and Parko are on voice machine and electric violin respectively, while Arto Koskinen and Peter Widén handle melody and drum machines. This is raw live electronics, made even eerier when Numminen's distorted voice joins the mix. The recording quality is rough, but that's perfectly suited to the material. Another version of this is on the PSYCHEDELIC PHINLAND 2-disc comp; both are recommended, since no two performances of "Far Away Lurk Friends" were alike.
3. Tommi Parko - "Hysteriablues" (1968)
Here's Parko for a third time! This is another mildly annoying track. It consists of jazzy/bluesy piano playing while Parko yelps in a falsetto. It's too brief to REALLY grate, though, and it is very amusing. It's actually VERY similar to the experimental vocal works of Henry Flynt.
4. Erkki Salmenhaara - "Information Explosion, prologue" (1967)
I enjoy this one a lot. It's an early bit of Finnish musique concrete bordering on plunderphonics. Several different sound sources pop in and out of the mix, but rarely at the same time. The overall feeling is receiving data in bursts. Salmenhaara (with some assistance from Erkki Kurenniemi) also gets points for a fairly unique take on musique concrete.
5. Blues Section - "Shivers Of Pleasure" (1967)
While it's somewhat out of place, this psychedelic gem is really cool. Backwards tapes, free sax playing, and an "atonal choir" combine with more traditional rock to great effect. Be warned that some other Blues Section material is nowhere near as innovative.
6. Erkki Kurenniemi - "Antropoiden Tansi" (1968)
Finally getting his own track, Kurenniemi was a true electronic wizard. This track uses one of his self-built early sequencers to create an odd masterpiece. The jumpy electronic tones sound remarkably similar to later glitch and IDM experiments, earning the title "Dance Of The Anthropoids" quite well. There's not a whole lot of Kurenniemi out there, so having a taste here is quite a boon. If you're hooked like I was, try to find the collection ÄÄNITYKSIÄ/RECORDINGS 1963-1973 (and look for a review of that here soon!).
7. Jukka Ruohomäki - "Mikä aika on" (1970)
This guy was Kurenniemi's assistant. Here, he uses the DIMI (Digital Musical Instrument), a synthesizer built by you-know-who. It sounds remarkably similar to Patrick Vian's solo work and is every bit as enjoyable.
8. Jouni Kesti and Seppo I. Laine - "Vallankumouksen analyysi" (1970)
This eleven-minute onslaught of free jazz is amazing! Recorded on a cheap deck in a living room, Laine absolutely roars on alto sax while Kesti attacks his drums in a nearly grindcore fashion. At one point Laine puts his microphone inside the sax, resulting in some truly filthy distortion. I wish I could find the B-side of the mini-LP this was taken from. If it's anything like "Analysis Of Revolution" (what an absolutely fitting name!), it would be a masterpiece. As it is, this is a lost treasure of truly brutal jazz.
9. The Sperm - "3rd Erection" (1968)
Ah, the infamous Sperm! This track is taken from their debut EP. P.Y Hiltunen makes some weird vocalizations (words? sounds? speaking in tongues?) while Pekka Airaksinen does his thing with a guitar. It sounds nothing like SHH!, but it's a great track. It's somewhat comparable to a noisier take on the Holy Modal Rounders or the Fugs.
10. J.O. Mallander - "1962" (1968)
This one's important due to Mallander's involvement with the Sperm, but it's truly mind-numbing and boring. A voice repeats "Kekkonen, Kekkonen, Kekkonen, Kekkonen, Kekkonen" over and over and over. That's it. There's also a part two elsewhere that's essentially the same thing. It's a joke that works for its audience, but it loses a lot in translation.
11. The Sperm - "Kuoleman puutarha live (otteita)" (1970)
Oh man, what a find! This is basically a collage of excerpts from the Sperm's opera "Garden Of Death". It opens with a lecture, goes into an Airaksinen guitarscape via a rough cut, and then ends on a crazed jam accompanied briefly by another lecture. While it will obviously never replace seeing them live, it gives you a great idea of what the audience experienced. The cover photo of this comp is apparently from this performance, if that's any indication!
12. Pekka Airaksinen - "Pieni sienikonsertto - A Little Soup For Piano And Orchestra op 46,8" (1970)
This has already been reviewed, since it was on Airaksinen's ONE POINT MUSIC, but its presence here is definitely welcome!
13. S. Albert Kivinen - "Spirea" (1970)
Another jokey track. Kivinen sings about Spiro Agnew in an off-key voice over a folk song. It's not a standout by any stretch, but it's definitely not bad. It's probably also worth noting that Numminen shows up here yet again, this time on accordion!
Thankfully, the less-interesting tracks are all brief, while the lengthy highlights are over far too soon. This is an excellent primer on the Finnish experimental scene(s) and should be acquired by anyone with an interest in the avant-garde. You might also want to check out SON OF ARCTIC HYSTERIA/MORE ARCTIC HYSTERIA and PSYCHEDELIC PHINLAND. The former is a 2-disc set that continues where this one leaves off, covering works from 1970 to 1990. The latter is also a 2-disc set; disc 1 is more accessible hippie/folk/psychedelic material, while disc 2 features tracks by the Sperm, Airaksinen, Sähkökvartetti, and Mallander amongst others.